Find the Parts You Need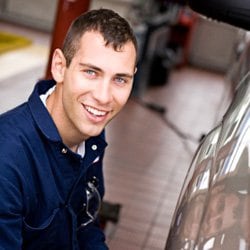 For many of our drivers, getting under the hood is one of their favorite parts of the automotive experience. But without the right team in your corner, finding the parts you need may prove a challenge. And that's why our dealership prides itself in offering a competent parts center.
Our team of automotive experts understands Ford, and that means you'll be able to find the part you need faster. If it's time to repair your vehicle, you owe it to yourself to visit our parts center.
Quality Service at Every Level
At our parts center you'll find a healthy inventory of genuine OEM parts. That way you know you're making repairs with a part that will fit and perform as it should. The last thing you want is to get home, just to find the part you got isn't the right fit, here you won't have to worry. And if we don't have the right part that you need, we'll order it in special.
Our staff is ready to serve you. Whether it be a question about all things automotive or help tracking down the right part, we've got you covered. You can even order your parts online through our website. Our dealership is focused on convenience, and that commitment is reflected in our parts center. If you're ready to get under the hood but need to find the right part for the repair, visit our dealership. Once you visit with a team member in our parts center, you're sure to find the right part for the job.